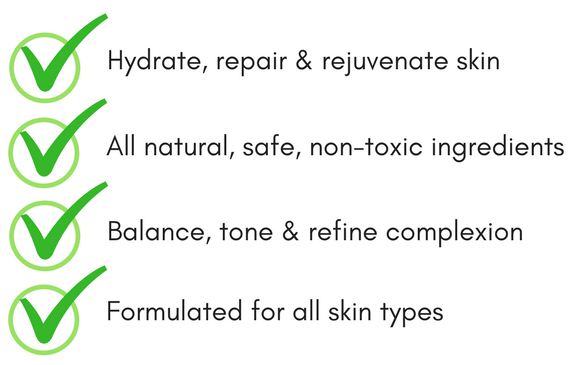 Product Description
---
Our serum has a new name and an improved formulation!
Wake up to beautiful, glowing skin while you wrap yourself in the heavenly scent of fresh, cut lavender. Face FIX Nighttime Repair Serum is one of our favorite products to moisturize, protect, and defend your skin against aging and the environment. Rich in beautiful, nourishing, exotic natural oils, Face FIX provides your skin with a nutritional blend of antioxidants that will make your skin glow! Notice a more refined, healthy, hydrated complexion. This is a perfect serum to use following our CLEAN Face Gentle Oil Cleanse.
Key Benefits
---
Powerful anti-oxidants protect skin from free radicals
Anti-aging ingredients to help smooth wrinkles
Anti-inflammatory oils that soothe skin
Repair, condition and rejuvenate the skin
Balance the natural production of oil
Tone and refine skin texture
Formulated for all skin types
100% Natural Ingredients
---
Natural expeller-pressed: rosehip oil (rosa canina), argan oil (argania spinosa), evening primrose, pomegranate oil (punica granatum linn), raspberry oil (rubus idaeus), sweet almond oil, apricot oil, meadowfoam oil, wheatgerm oil, golden jojoba, moringa oil, and 100% natural therapeutic grade essential oils: tea tree, geranium, lavender, frankincense, carrot seed, rosemary and bergamot.


How to Apply
---
Just 1/4 - 1/2 pump does the trick for normal to dry skin. Smooth serum over entire face and neck (damp or dry) in the evening after cleansing. Can also be used in the morning under makeup if your skin needs extra hydration. Adjust amount used and frequency according to what your skin loves. For the perfect cleanser to pair with this serum, we recommend our CLEAN Face Gentle Oil Cleanse and our Face CANCAS Dry Oil Elixir (a favorite for morning hydration!)


Available Sizes
---
1 oz
Additional Information
---
Keep in a cool, dry place

 
Avoid prolonged exposure to sunlight
Please use within 9-12 months of purchase

Frequently Asked Questions
---
When should I use Face FIX Serum?
Face serum is a more highly-concentrated formulation for hydrating, healing and fighting signs of aging. Face FIX contains no water and no preservatives, resulting in the serum penetrating deep into the skin, leaving a fresh, healthy glow!
When should I use Face FIX Serum?
For those with normal skin, Face FIX can be used in the evening right after cleansing. For those with drier skin, use morning and night.
For skin that tends to be oily, we recommend using Face CANVAS Dry Oil Skin Elixir in the morning, and then 1/2 of a pump of Face FIX Serum in the evening. Adjust amount used and frequency according to what your skin loves!